We are freedom fighters
Children of intuition
Brothers of the spontaneous light
Lovers of magical intoxication
Romantic rebels
Knights of infinite spirals
We are fire
Water
Spirit
Earth
We are taste and art
We gather in us all senses
Running from stereotypes
Breaking prejudices
We are human in our heads
Bulls in our hearts
We are brothers, children and parents
Family
Blood of our blood
We are reason and irrationals
Poison and elixir
Shadow and light
We are naked and raw
Free!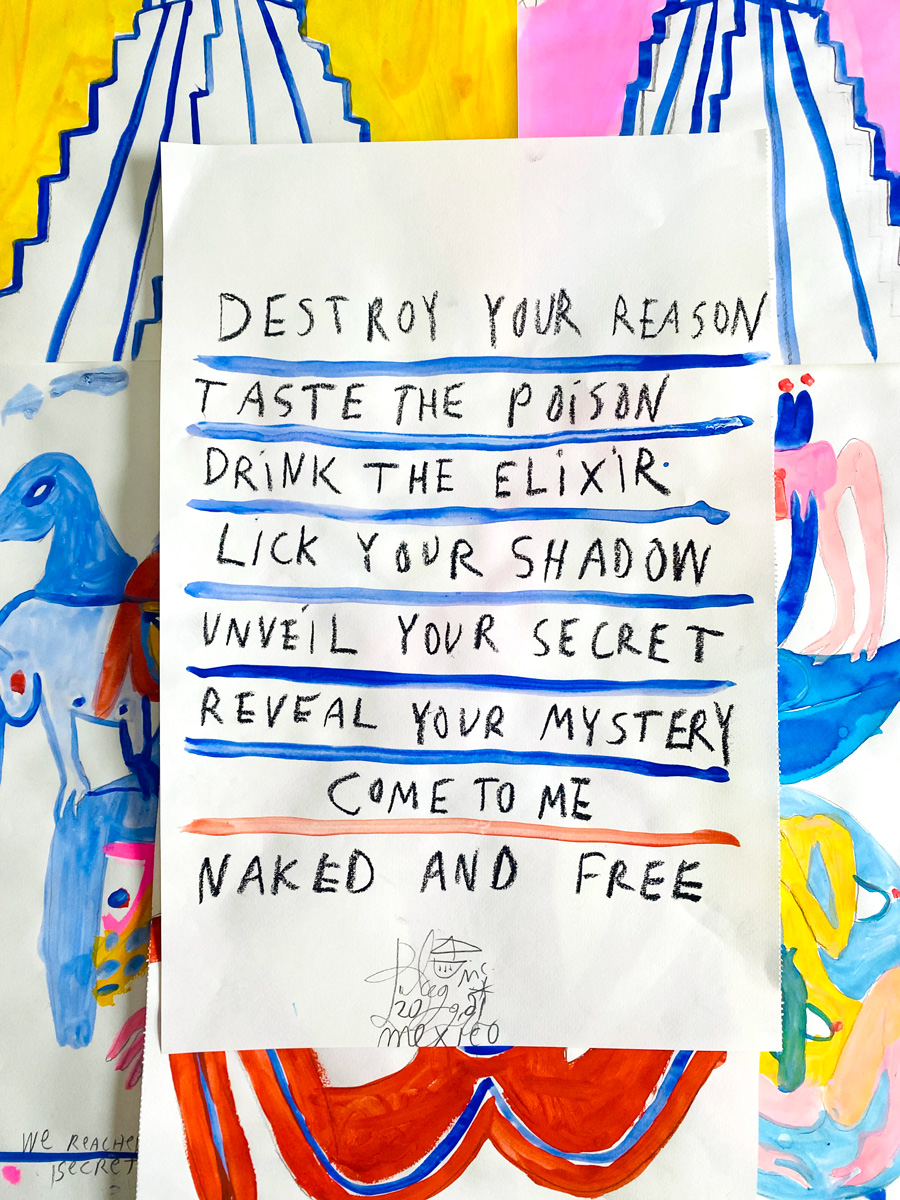 We are CARNAL. Pleasure of the flesh and of the spirit. Proof of love, sign of confidence, a bet on the future. We are hijos of 100, people who grew up and built roots in the restaurants of 100 Maneiras' group. We are brothers of blood, made of heart and soul, with wings to fly.
We are Manuel Maldonado (executive chef), Luis Ortiz (head chef), João Sancheira (head bartender). We are Mexican food, cocktails made with tequila and mezcal, we are minotaur and serpent, humans and divinities of the wind, the air and learning. We are masks and talismans, worshipers of the sun and the moon, of the sea and the earth, of origins and destinations, of traditions and contradictions. We are agave and chili, tacos and quesadillas, music and art.
We are a Mexican gastrobar, with no need for labels. We are guided by the curves of the Quetzalcoatl that winds across the ceiling, flying over our heads as we stroll around the space. Attracted by the masks hanging on the stone walls, peeled, naked, raw. Intrigued by the "free mythology" put on canvas by the artist of this-world-and-the-other, Carlito Dalceggio. We are deconstructed. Imperfect. We are free. Alive. Spicy. Salty. But also sweet.
"Libre" sparks like the light at the end of this tunnel. So that we don't forget. So that we don't fall asleep while life is in front of us. We want to dissolve the limits: of art, of food, of cocktail-making, of music, of video, of reality. We want an experience of life. Organic, iconographic and collective. Erotic, visceral. Carnal!
We want to abandon our ego(s), to celebrate the living and the dead, to live in a world of dreams, to build visions, to follow the rhythms of the universe, the sky, the sun, the moon.
It is a collective story that is told here. A great art installation, unique and organic, where food, drinks, music and arts merge as one. Where the antojitos, tacos, quesadillas, los principales and los dulces from the menu are "written" on hand-painted stoneware without rules or straight lines.
Where the tequila and mezcal-based cocktails combine the world of gastronomy with the universe of the bar in a gastronomical approach to classic mixology. Behind that huge wooden and terracotta counter, 10 signature cocktails have been created (in addition to mocktails, classics, spirits and beers) with ingredients such as shitake mushrooms, cacao, habanero, corn, celery bulb and beets, among many fruits and herbs, not so common on a bar menu but that shine here, without being limited by preconceptions, representing what is the motto of the space: "Libre".
Creativity is associated with poverty, exhibiting necessity as the engine of inventiveness. Modesty is sprinkled with spice, to end up with shame. Products are imported from Mexico to glorify the land, to catapult the origins. And to shout with or without accent: we are free! Deliciously free.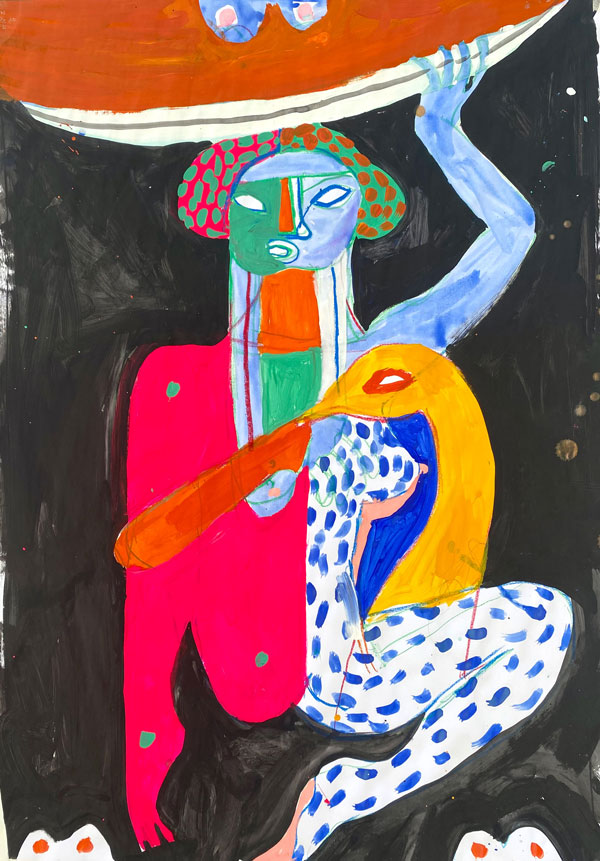 CARNAL opened on November 20, 2021, on Rua da Misericórdia, 78, where the bar Double 9 used to be, inside 9Hotel Mercy.
Ljubomir Stanisic, Nelson Santos, Nuno Faria, Miguel Ângelo Fernandes and Manuel Maldonado are the partners of this gastrobar with the signature of 100 Maneiras.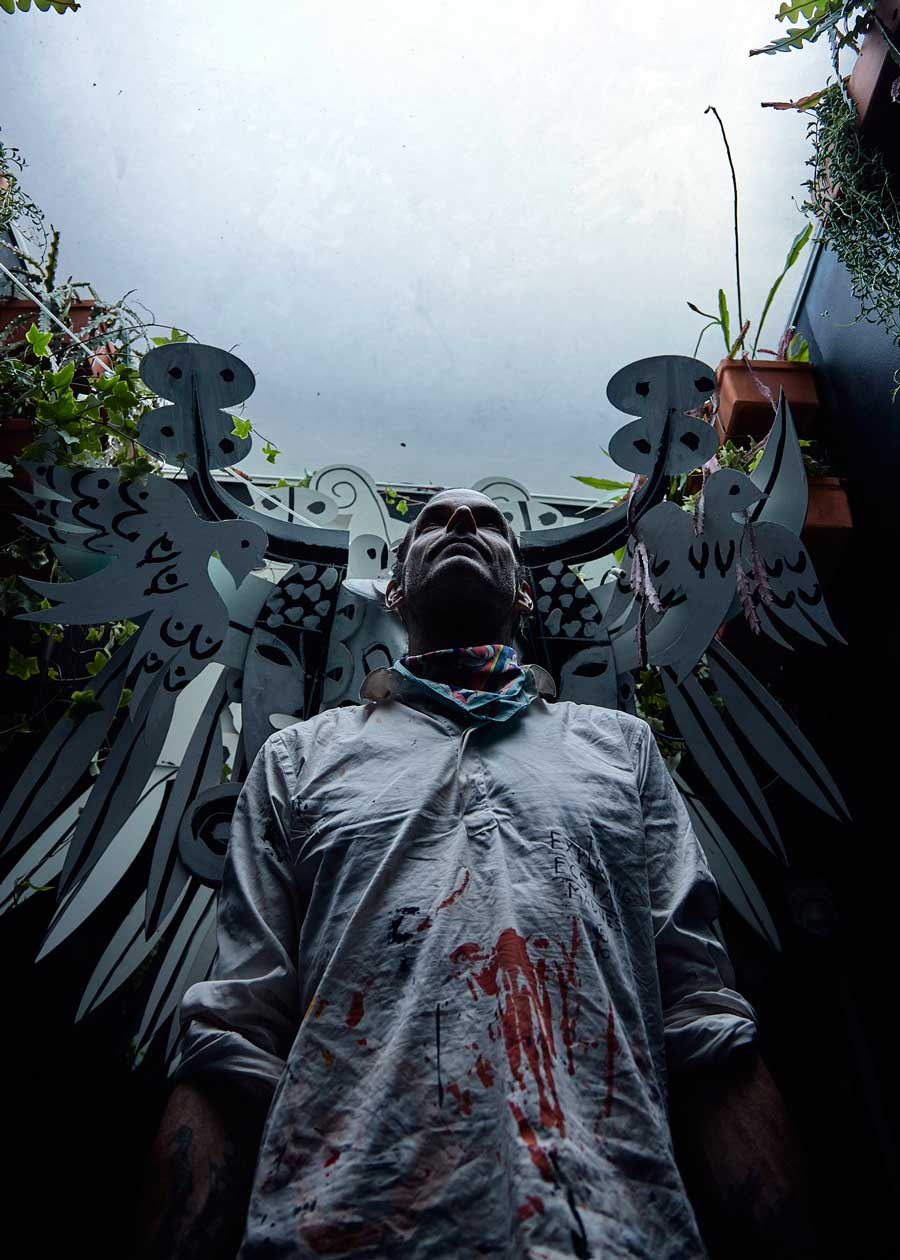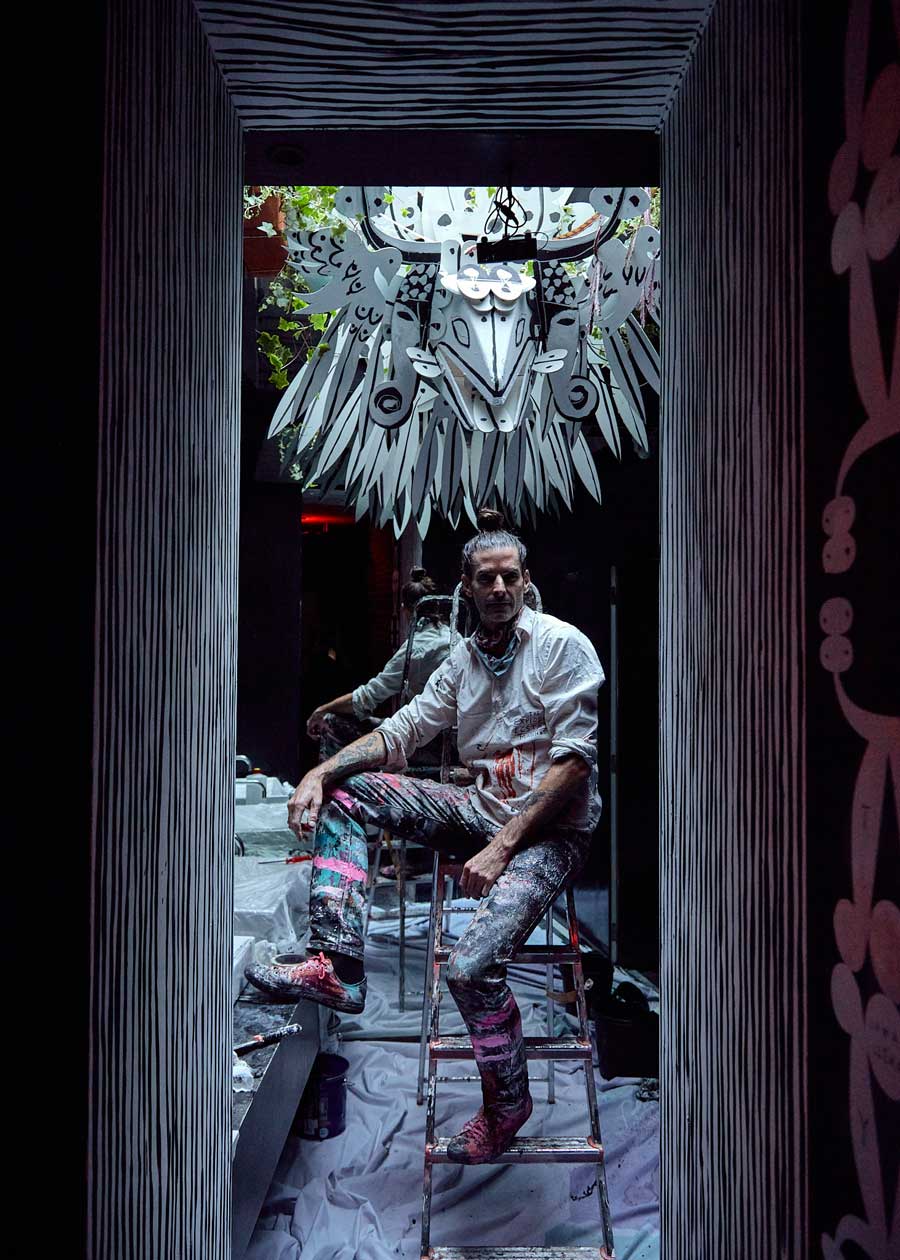 "Inhabitant of planet Earth", this is how Carlito Dalceggio defines himself, a "warrior of freedom" for whom borders make no sense. Even though he was born in Montreal, Canada, it is in Mexico, "one of the last truly free countries" in the world, where he finds his heart.
A contemporary artist, his work – a visual language that includes painted canvas, sculpture, video, installation, and public art murals – reflects the ease with which he moves between genres and cultures, with the aim of creating the mythology of our days.
At once folkloric and futuristic, his art is easily recognizable around the world, from Mexico City to Istanbul, passing through Paris, Bali, Indonesia, New York, India, Brazil, and Montreal. As influences, he recognizes Dia de los Muertos in Mexico, the whirling dervishes of Turkey, Persian calligraphy, the Beat poets, the search for the myth in art history, the COBRA movement, modernism, the Duende theory, and innovative jazz minds, such as Miles Davis and John Coltrane.
In his curriculum, he has collaborations with Cirque du Soleil, interventions such as the Caravan of Light, at Burning Man (USA), installations in Plaza Santo Domingo, in Mexico City, murals in Russia and Rio de Janeiro, and the co-creation of a mega labyrinth multimedia exhibition in Istanbul. In 2017, he was invited by the Mana Contemporary Art Centre, in New York, to open a studio that he converted into an art lab. One year later, he painted the sails of the Infinity boat, which traveled to the Arctic to warn about climate change, and made several performances in Miami and Tulum.
In 2019, he created "Mythologia Libre," an installation in New York that is a manifesto for the liberation of the spirit. CARNAL was his first intervention in a restaurant and in Portugal.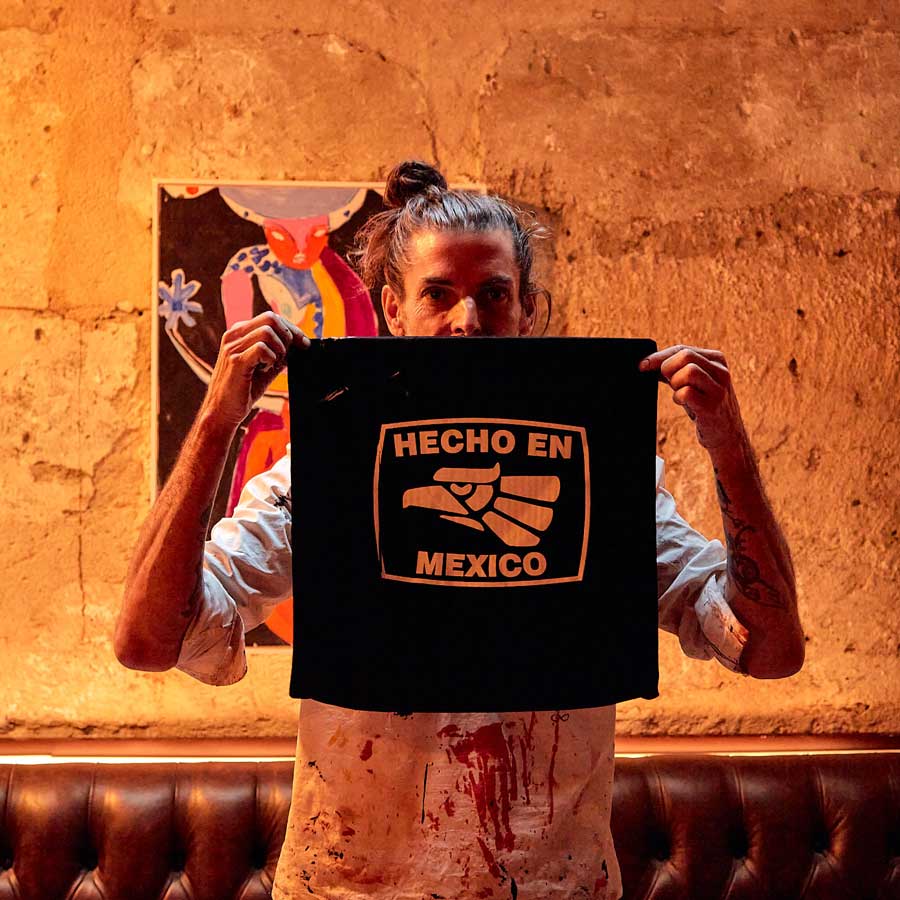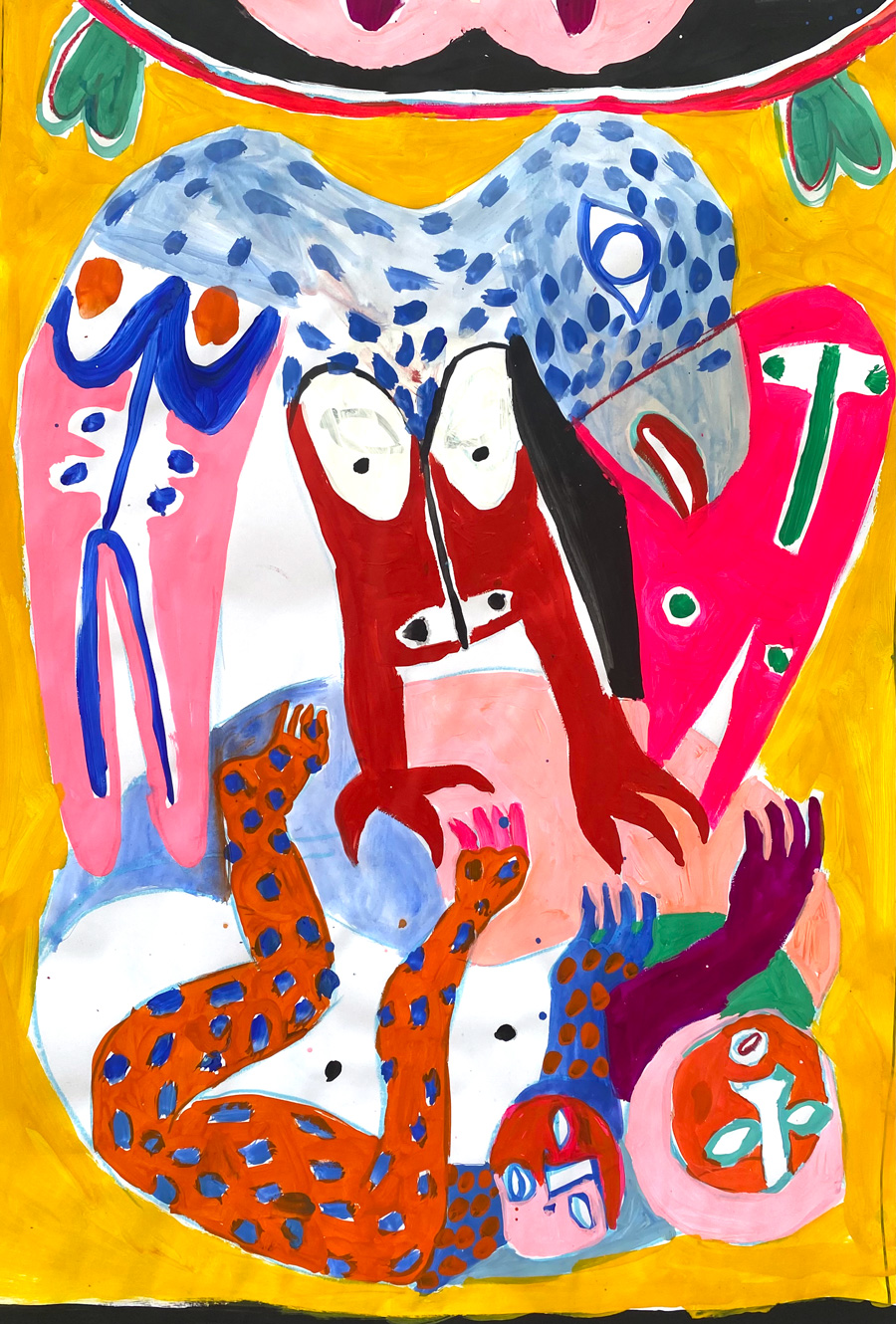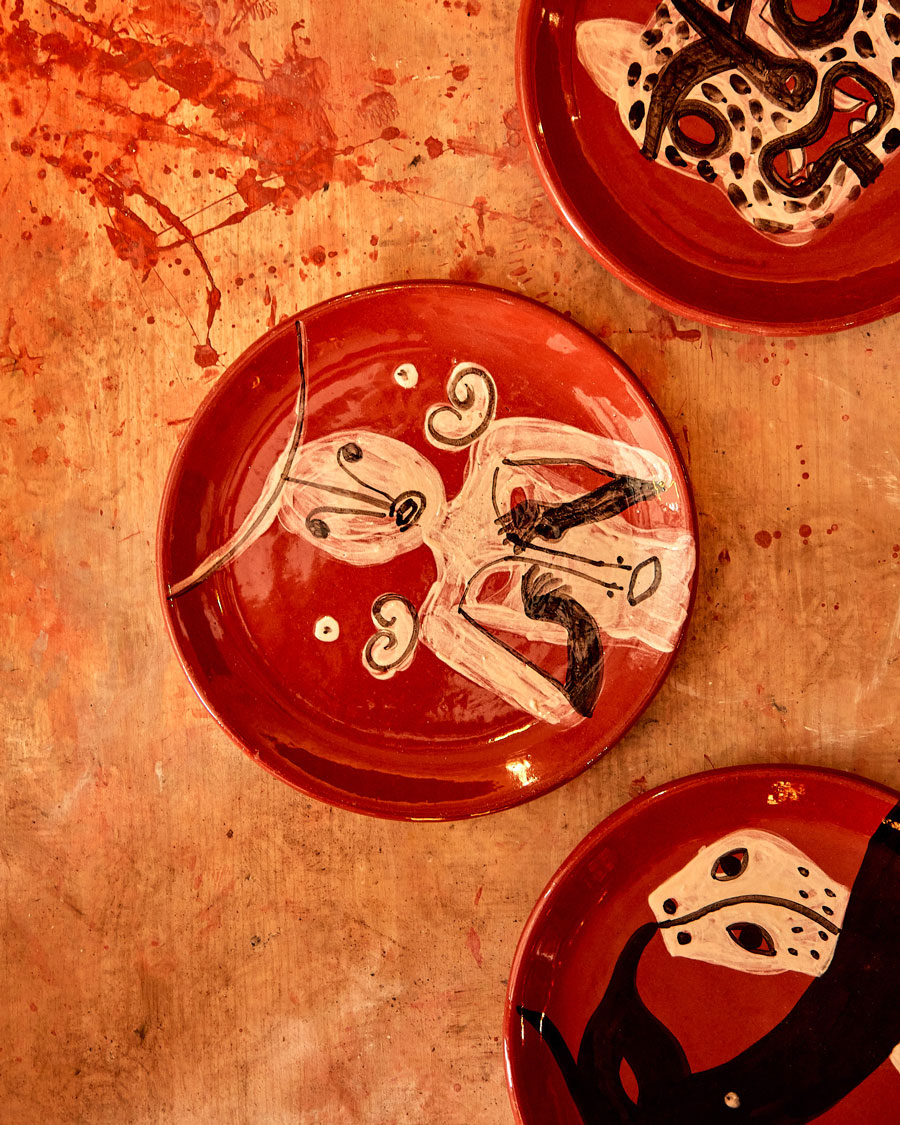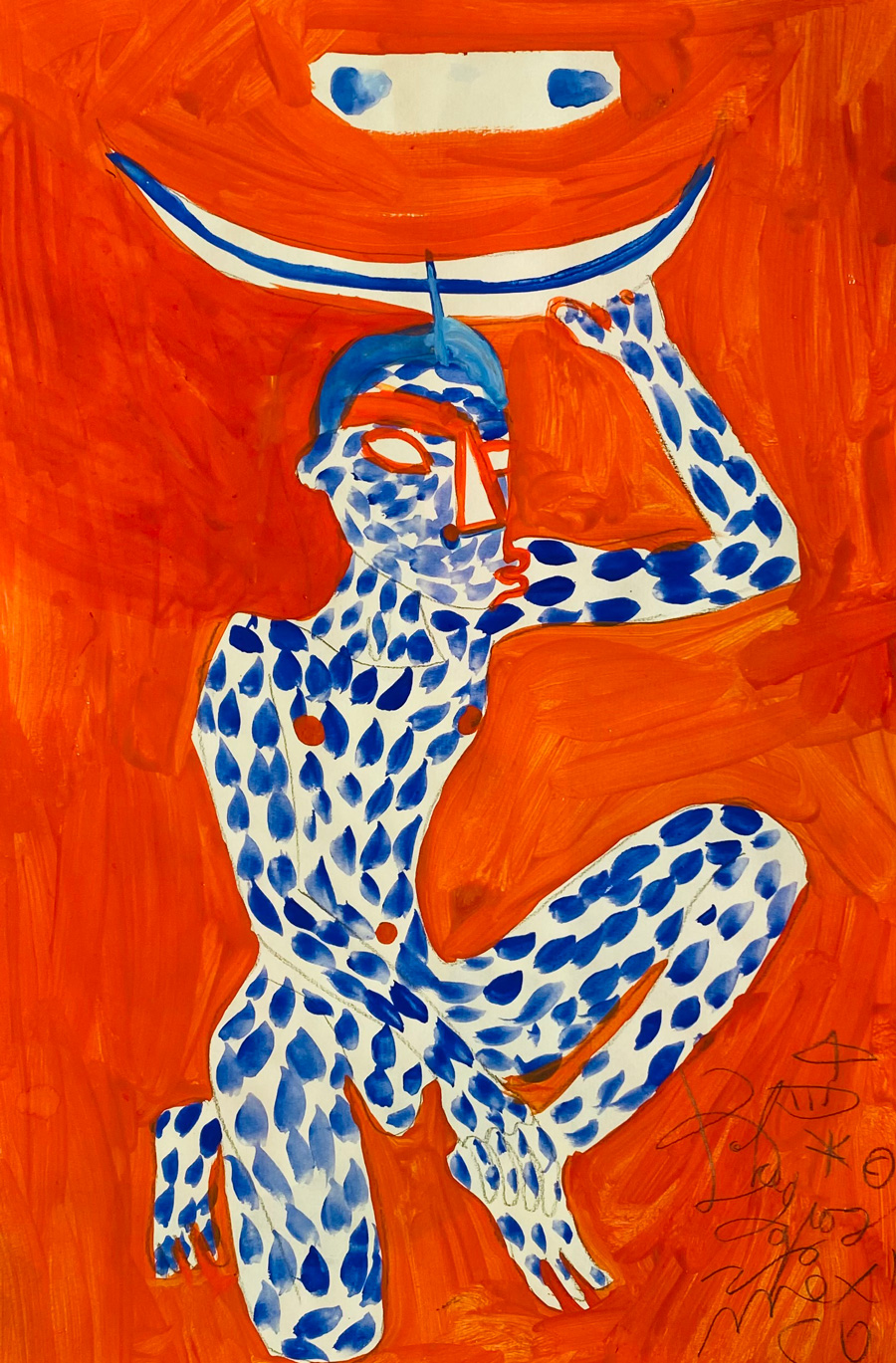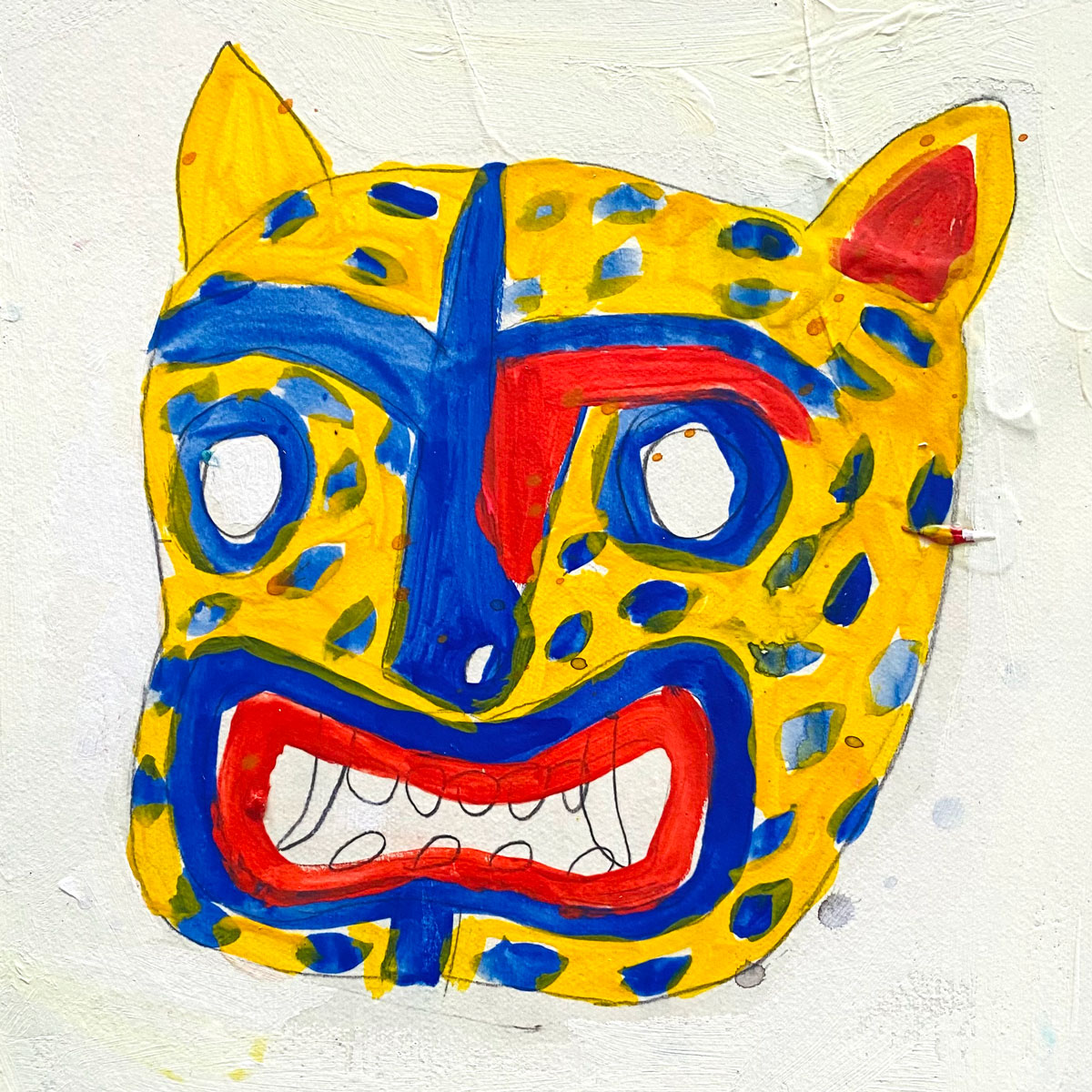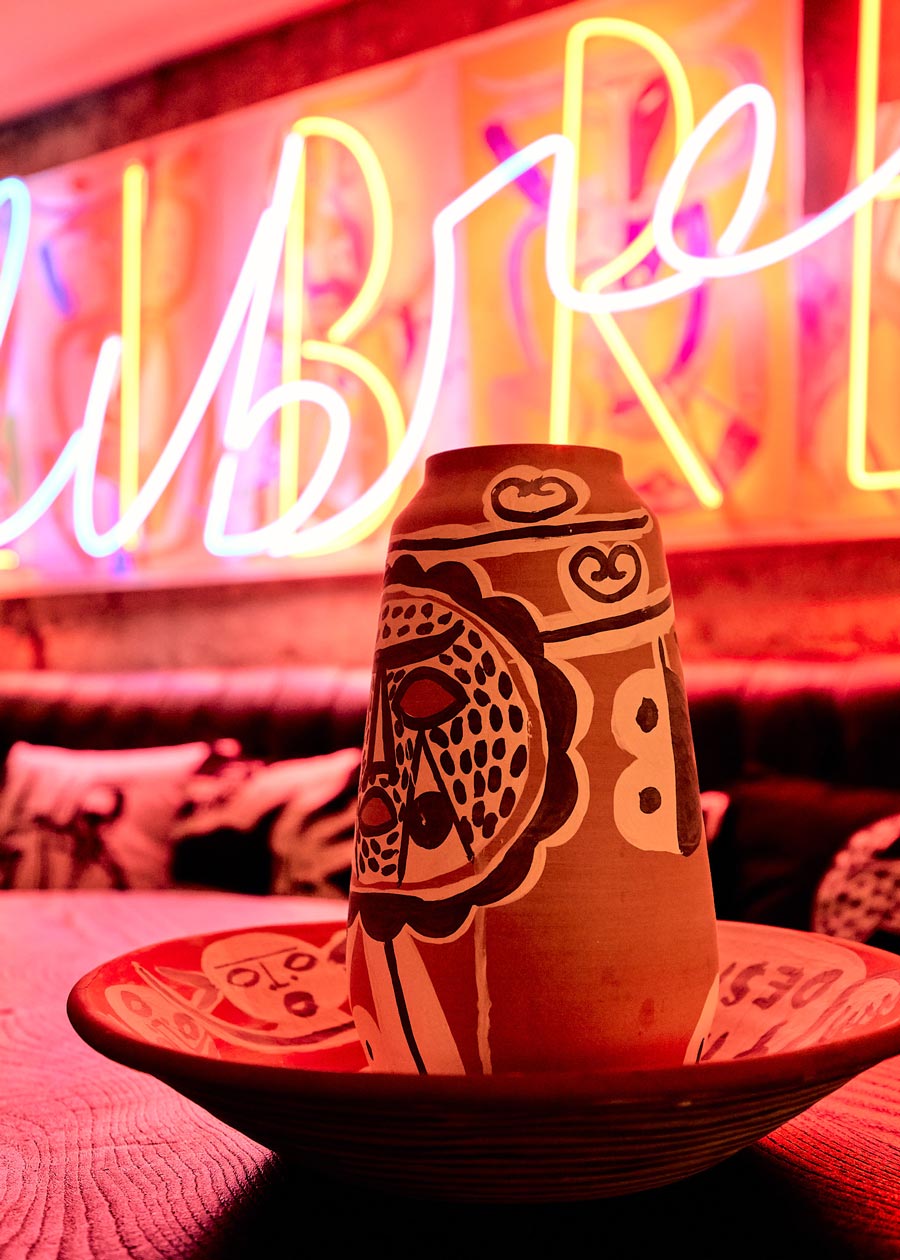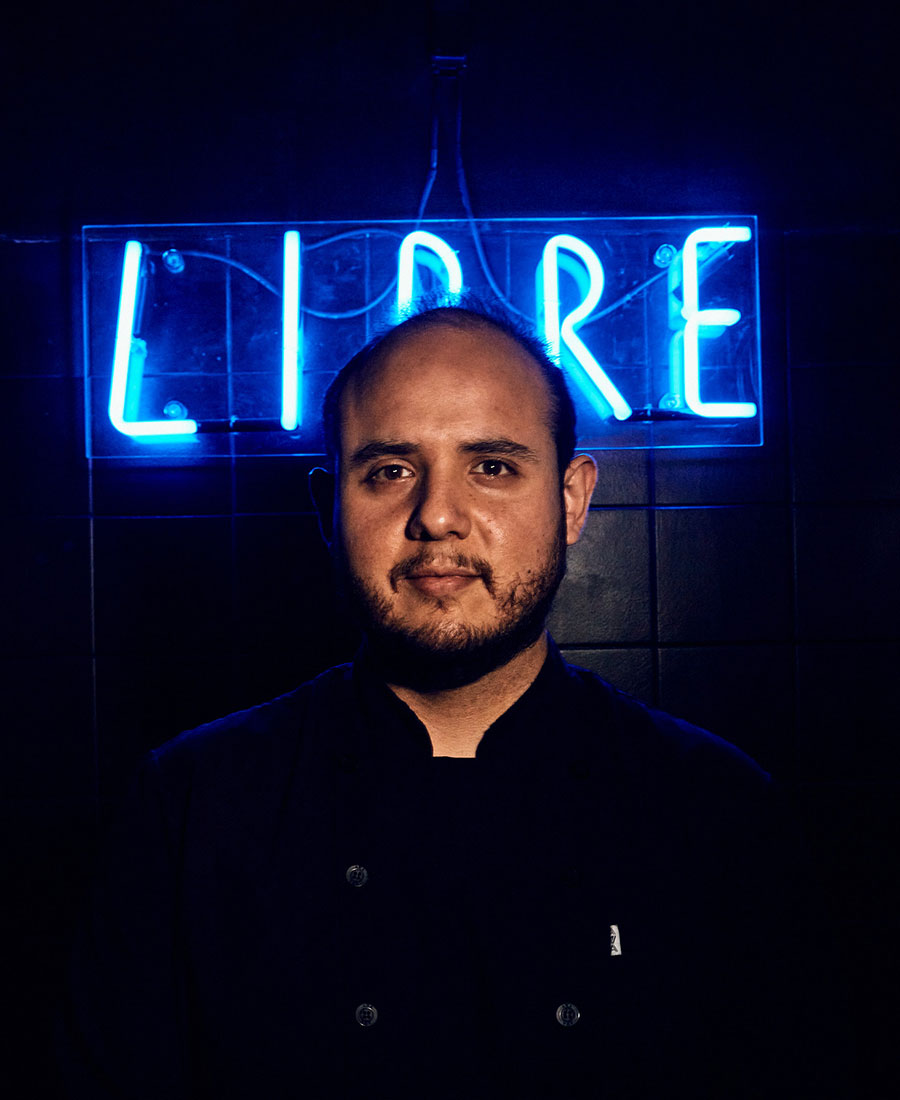 Born in Guadalajara, Mexico, on January 11, 1989, he was raised in a large family where food was a ritual and a form of love. Every Sundays they would gather for lunch at his grandparents' house. It was common for him to spend the whole week dreaming of the moment to sit at the table and taste some of his favorite dishes made by grandma Alicia, his first gastronomic reference, like carne con chile (which Luis has tried to recreate several times without ever achieving the same result) or roasted corn with cream and cheese. His decision to join the world of restaurants was also influenced by his family: his father was an F&B manager in a hotel and, since he was a child, Luis worked during his vacations and weekends to save money. It was the backstage, especially the moments when the hotel's chef used to give food to his father (usually as a "bargaining chip" to ask for something), that fascinated him.
After studying Hotel and Tourism Operations Management at Universidad del Valle de Mexico, he headed to Chicago, to Kendall College where he earned a degree in Culinary Arts. After graduating, he worked in different restaurants in the city, many of them with one Michelin star, but it was on Alinea (3 Michelin stars), of chef Grant Achazt, where he worked for a year, that he had his most remarkable experience. It was here that he established his cooking influences and bases, where he learned not only to cook in a orderly and systemic way but also how to become a good leader. It's no surprise, then, that Achatz is one of his great references, along with chefs such as Thomas Keller, Enrique Olvera, Fergus Henderson, Wylie Dufresne, Magnus Nilsson and Ricardo Munoz Zurita.
In 2014, he decided it was time to explore the cuisine of the Old Continent and, with his Portuguese girlfriend, who he had met while studying in Chicago, he moved to Portugal. Here, he worked in Viana do Castelo, at Fábrica de Chocolate restaurant, at Fortaleza do Guincho, Hotel Verride and Sheraton Cascais before joining 100 Maneiras, in 2018, having been part of the team that founded the 100 Maneiras Restaurant (1 Michelin star), in February 2019.
At CARNAL, he shows what he believes in: "I do what I feel like doing, what I want to experience in my own way, with ingredients that people generally don't use in fine dining. For example, in my opinion, beans are a thousand times more interesting than caviar: they can be used in savory and sweet dishes, in traditional Mexican cuisine or fine dining dishes… You just need to have the knowledge and the tools to transform a "simple" bean into a new experience for guests." The goal is simple: to provide "a relaxed, fun, interesting experience and, above all, to give a taste of the gastronomic and general culture of Mexico."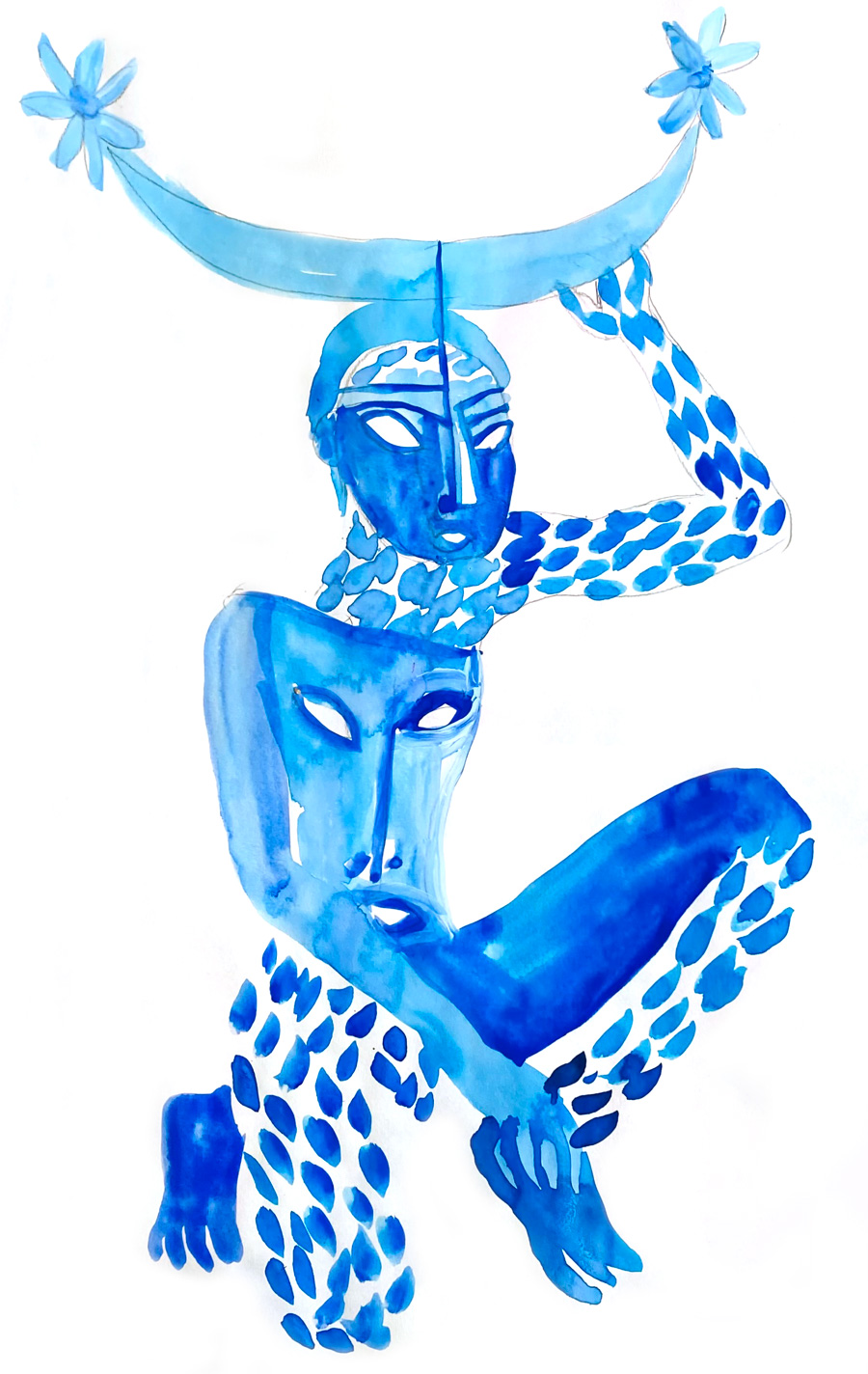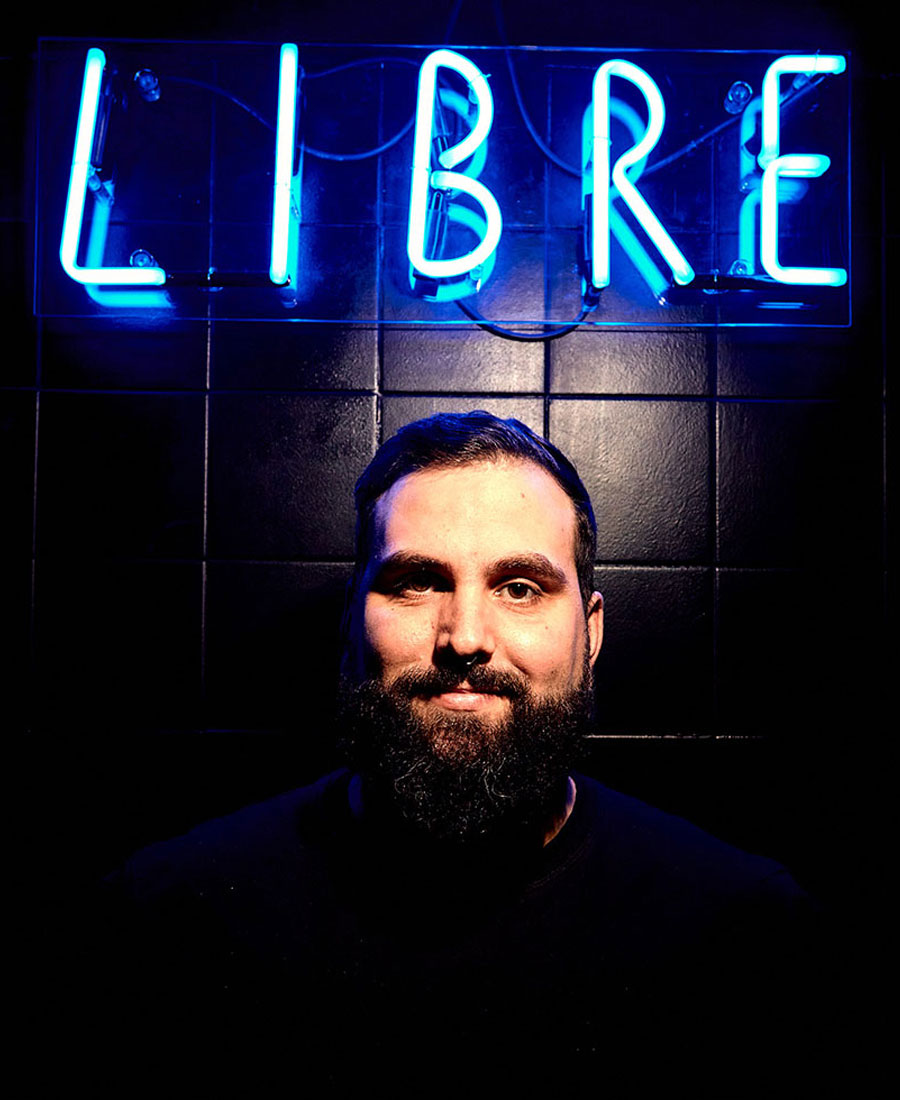 Part of the 100 Maneiras family since 2017 and head bartender of the group since August 2021, João Sancheira, born in Caldas da Rainha, has had an impressive rise in the cocktail world. With only six years of experience, he was Bartender of the Year 2021 at World Class Portugal and represented the country in the world finals, ending up in 7th place among 35 thousand participants from 55 countries (an unprecedented achievement for a Portuguese). Next, at the Lisbon Bar Show awards (May 2023), he won the title of Best Bartender of 2022.
At CARNAL, he created for the first time a cocktail menu focused on a single type of distilled, the agave spirits. He used tequila and mezcal to create a cocktail list that pays tribute to the best of Mexico in the glass, without forgetting the philosophy behind all the counters of the group: to combine kitchen and bar in a gastronomical approach to classic mixology.
For Carnal, he created 10 signature cocktails (in addition to mocktails, classics, spirits, and beers) with ingredients such as shitake mushrooms, cacao, habanero, corn, celery bulb and beetroot, among many fruits and herbs, not so common on a bar menu but that shine here, putting an end to preconceptions. It is one of our most beloved enfants terribles. And the "nastiness" (and impeccable technique) with which he imagines his cocktails seasons his creations like a burning stamp mark.